Bryan Tool & Machining is here to offer advice and help you to explore your options regarding equipment refurbishing and replacement. Real world experience from working in the machining business has given us a valuable perspective to share with you. Combined with our relationships with leading controls and equipment manufacturers we are in able to assist you through the entire process.
The decision to upgrade your existing equipment or purchase new is an important one that requires a significant investment. We are committed to giving you the information you need to make an educated decision that will benefit your business for years to come. If you would like to talk with us about your plans for upgrading or replacing equipment in your company give us a call we're here to help.
CNC Controls for Milling Machines, Lathes & Routers
Industrial CNC controls with user friendly interface for quick and efficient part production.
 

CENTROID Boss series II retrofit customer testimonial

"The quality and workmanship of the CENTROID equipment was outstanding and very professional. CENTROID was able to custom tailor the control to allow us to continue to use our rotary milling arrangement as before and even expanded our capability. The short story is that we ended up with a four axis CNC mill for less than half the cost of the three axis Haas. This includes the work that was done by our staff."

- Vic Brown President, American Machine Works Inc.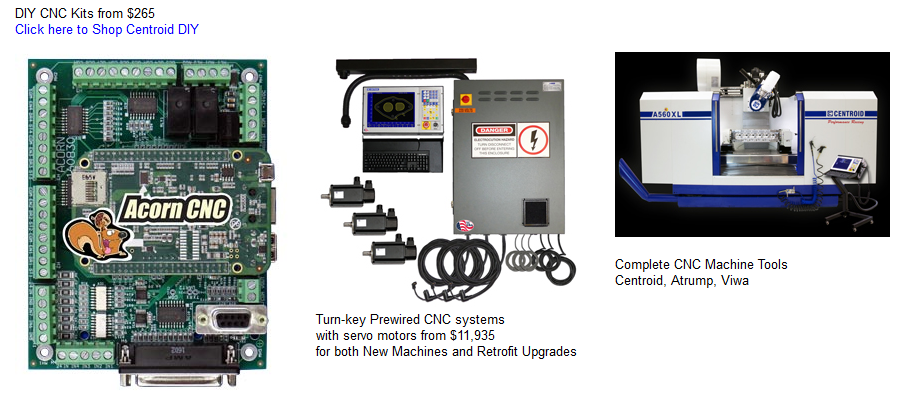 CNC Controls for Milling Machines, Lathes & Routers
CNC control kits for OEM and Retrofit.
CENTROID CNC controls ship from the factory completely assembled and tested ready to install on your particular machine tool. All the operator control buttons, the PLC ladder, motor wiring, even all the cables for Spindle, Coolant, Lube, and any other accessories are prewired, programmed, tested and ready to go. Designed for both new machinery and the Retrofit upgrade of existing NC/CNC machines. We have over 5000 servo CNC controls in operation worldwide. No one else has more experience retrofitting classic machine tools like: Bridgeport , Mori Seiki, Hardinge, Shizuoka, Prototrak to name a few.
We STOCK common control configurations for immediate delivery!
DC Servo Motor based pre-wired electrical ready-to-run CNC system prices start at:
Knee Mills, Bed Mills, Routers: M400S $11,935
New Equipment
Bryan Tool & Machining is an authorized sales and service dealer for ATRUMP. ATRUMP manufactures machining equipment for use throughout our industry. We are here to help educate and assist you in making the best decision on a new piece of equipment for your company.
Our relationship with ATRUMP as an authorized dealer enables us to be there at each step from sales to training after the sale. As well as service when needed.
If your interested in learning more about ATRUMP and if their machines are right for you please give us a call and a member of our management team will be glad to talk with you.
A Trump Machinery, Inc., incorporated in 1989. Provides the CNC and conventional machine tool industry with a complete line of Milling Machines (Knee & Bed); Precision Lathes; Universal and MONASET Tools and Cutter Grinders; CNC Mills (Knee, Bed and Machining Centers) and CNC Lathes.
A Trump is the U.S. distributor for EXTRON -- one of the top manufacturers of both CNC and manual bench lathes, precision engine lathes, knee mills and bed-type mills in Taiwan. Extron has been in business for over 35 years and sells approximately 20,000 machines worldwide.
Extron is registered to ISO 9001, a universally accepted quality assurance designation. ISO registration is an indication of professionalism, capability and commitment to customer service earned through independent analysis of a company's quality management systems. We proudly stand behind our products and our ongoing commitment is to provide superior products and service.
What does this mean for you?
Peace of mind in knowing you will receive service from an organization with an ongoing commitment to provide superior products and service. Our partners and you, our customers, reap the benefits of our ISO 9001 registration.
Our top priorities will always be Quality, Service and Development.