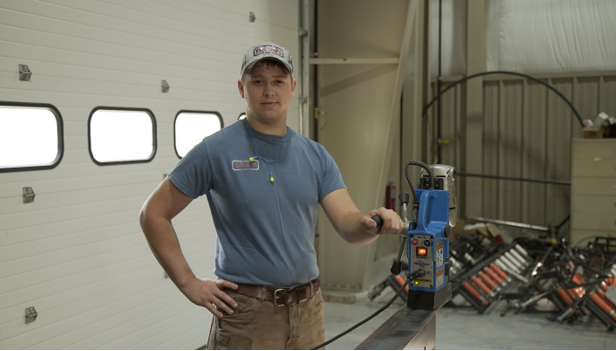 At Bryan Tool, our plans include growth and continuing our path of success. We employ motivated and skilled individuals to become a part of our dynamic team.
Each of our employees has their own unique life journey that brought them together at Bryan Tool and Machining.
Confucius once said, "Choose a job you love, and you will never have to work a day in your life."
This phrase comes to mind when we look Andrew's journey to becoming part of our team. After high school, Andrew started out by spending time in fields he felt passionate about and that he believed were important callings. These included overseas missions and an introduction to the skilled trades.
Andrew began his work at a local machining company where he was trained as a millwright and in their machining shop. While there, he discovered he has a talent for excelling in specialized tasks, one of which is polishing stainless steel to a perfect finish. Although this may sound simple, it takes an extremely high degree of focus and determination to do successfully.
This combination of work experience, along with personal qualities like his love of learning and positive attitude, opened the door for Andrew to join us as a welder in 2018. Since then, he has been working to refine his skills and put into practice what he learns each day from his mentors. With his ability to assume an increasing level of project complexity and responsibility, he has become a valuable part of Bryan Tool and Machining. Andrew sees Machining and Fabrication as having endless possibilities, and he looks forward to continuing this career path.
John Bryan, founder of Bryan Tool, strongly believed in the training and development of people with the goal of helping them be their best!
This philosophy will always remain part of our company culture.