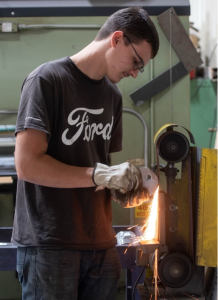 Adam Conley is a senior at Broadway High School. He joined the Bryan Tool team in August of 2021. His application process was a little different than the rest. Adam was the first-ever student to secure an apprenticeship in the new high school level program created for Broadway High School instead of the typical vocational school apprenticeship program.  This means that Adam spends half of his day at school and the other half working and learning at Bryan Tool. Adam has always had a skill for problem-solving and learning how to determine a solution. His love for this kind of work began when he received a 3-D printer. His first project was a replacement for a part on his bike. After a few different projects, he began to appreciate the process of watching projects transform from start to finish.
Adam chose this profession because he feels like it is close to what he enjoys doing outside of work. When he first started at Bryan Tool, he was interested solely in the machining side of production, but after working and learning he began to gain knowledge of other aspects of the business.  One of Adam's most applicable traits is his ability to problem solve. He takes pride in learning how to complete projects correctly and remembering how to reapply this knowledge in the future.
In the future at Bryan Tool, Adam wants to focus on learning more about machining and the proper techniques for making and building parts. He's interested in learning more about the transformation process. Many times, the steps involved in the process between the original idea and the finished product are misunderstood. Adam hopes to learn to be able to look at a blueprint and transform the picture into a real-world product.
In his free time, Adam enjoys working on bikes and swapping engines, as that's where his love for this industry derived from. He is also very active in the BHS Technology Student Association. This is a nationwide club dedicated to serving students who are interested in STEM. He has been a member throughout high school and has participated in multiple events. He has built robots that have had to undergo a series of challenges as well as an electric Go-Kart he had to drive in a race. His most accomplished event was in problem-solving. This event is extemporaneous and the challenge must be done in a timed period. Adam and his partner placed first in the state and will head to nationals.
Adam plans to continue working at Bryan Tool after he graduates. From there he will work full time and will continue to learn and grow as an individual.