CNC Machining Sales Representative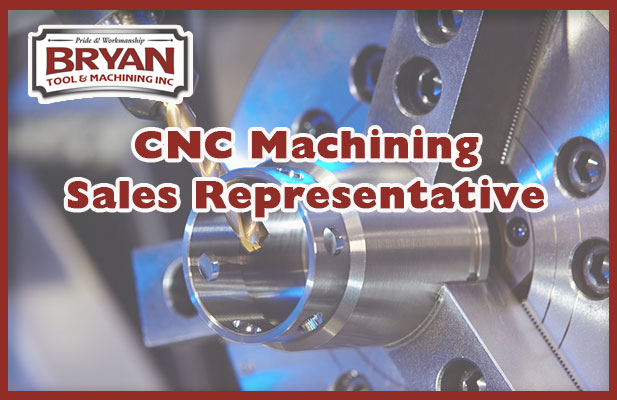 Bryan Tool & Machining, Inc. is headquartered in Broadway VA, and is a veteran-owned, small business, providing a single source for complete manufacturing, fabrication, and parts solution. We take pride in our craftsmanship and dedication to customers and employees.
Our expertise spans a range of sectors, from designing machine parts to consulting on and retooling complex systems for assembly lines. Bryan Tool offers a full turn-key solution to our customer base; handling everything from the concept of an idea, to the complete implementation of your product or design.  We offer a full CNC and Fabrication shop, on-site millwright services, as well as a team of project managers and engineers to complete any task at hand.
Full-time
Our Sales Representative will have an office available at our headquarters in Broadway Virginia and will report to the President/CEO and will be a key member of the Bryan Tool Leadership Team.  A qualified applicant will be able to focus on the overall growth of Bryan Tool while narrowing in on a specific area of our business we are looking to grow and expand.  Candidates must be able to work well within a team atmosphere and be able to understand the different needs and working dynamics of Bryan Tool.
Specific responsibilities for the Sales Representative:
Think outside of the box and be able to create original ideas and solutions to drive and meet sales goals.
Be able to visualize the larger picture of what we expect for our customers and employees
Able to work in a multi-faceted work culture
Become a team player – understand the different positions inside of our company
Create opportunities for growth in specific areas of our business
Develop new client accounts and maintain existing relationships
Active participation in short- and long-range strategic plans.
Network with key decision-makers and develop alliances with purchasing, engineering, and management to learn and capture new business opportunities
Ability to prepare and present detailed proposals to customers
Experience and Qualifications:
Mechanical aptitude - ability to discuss customer needs with an understanding of their production, part manufacturing, OEM replication, construction, industrial, or metal working needs
Knowledge of production CNC facility operations
Experience selling to manufacturing, production facilities, and industrial/government contractors.
Previous, successful experience (minimum of 5yr) in outside sales, preferably in mechanical, operations, or engineering sales.
Experience developing new accounts.
Excellent communication skills and emotional intelligence in dealing with customers & prospective customers as well as internal staff.
Reliable, organized and detailed oriented.
Ability to work independently and manage time to hit goals/quotas.
A willingness to learn about our business and become an expert over time
Strong collaboration and negotiation skills
Proficiency in Microsoft Office.
Possess a current driver's license.
Ability to pass a drug screen and background check.
Compensation package will consist of a competitive base salary plus goal achievement bonuses. The base salary will be determined, in part, by the individual's level of professional experience and will include an incentive program that is revenue and profit-driven.
Bryan Tool offers an attractive benefits package, including medical, 401k plan, yearly shoe allowance, and company-provided shirts. Other benefits include paid holidays, insurance, and paid vacation time.
This position carries a high level of visibility and offers the successful candidate the opportunity to significantly impact business growth within a team environment.
Job Type: Full-time
Benefits:
Retirement plan with company matching
Cell phone reimbursement
Company provided shirts
Yearly Shoe Allowance
Multi-level health insurance plans
Paid time off
Company provided transportation
Schedule:
Supplemental Pay:
Willingness to travel:
Work Location: State of Virginia, West Virginia, or DC